Go back
EUPAVE Publication "A guide on the basic principles of Life-Cycle Cost Analysis (LCCA) of pavements" available!
03/09/2018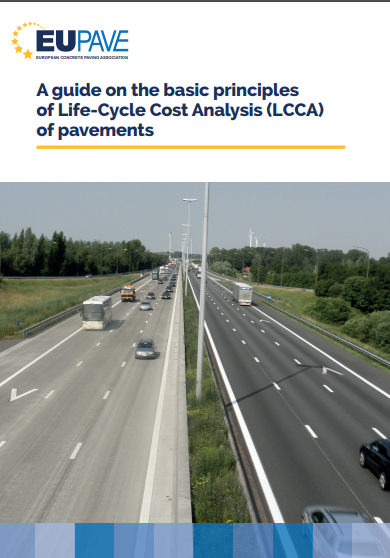 Worldwide many publications on the issue of LCCA are available in different degrees of detailing. In these publications the same fundamental principles and a widely accepted procedure are used for conducting a LCCA. These principles and procedure are applicable for any type of asset.
EUPAVE's publication emphasizes our commitment to provide a general insight in the approach and good practice in conducting a Life-Cycle Cost Analysis.
The degree of detailing, of both the deterministic approach and the agency costs, is such that it enables any professional to conduct a LCCA by applying the standard procedure of a LCCA as described in this publication and by using an excel spread sheet.
For a more advanced application of the procedure that includes user costs and/or risk analysis, specific software is more appropriate or necessary and is available on the market. This Publication provides references to this specific software.
The Publication is structured as follows:
Chapter 1. Scope
Chapter 2. Introduction
Chapter 3. LCCA Standard Procedure
Chapter 4. Special Topics
Chapter 5. Examples of LCCA
Chapter 6. References