Go back
Circular economy in practice – EUPAVE's first webinar on the use of recycled concrete aggregates
18/02/2019
On 7 February 2019, EUPAVE held its first webinar with theme "Concrete Pavement Recycling and the Use of Recycled Concrete Aggregates in Concrete Paving Mixtures". The online meeting was attended by around 20 participants, all from EUPAVE Members and Partners.
Mr. Mark Snyder, Pavement Engineering and Research Consultant, was invited to give a presentation based on his wide experience and several publications he wrote on the topic.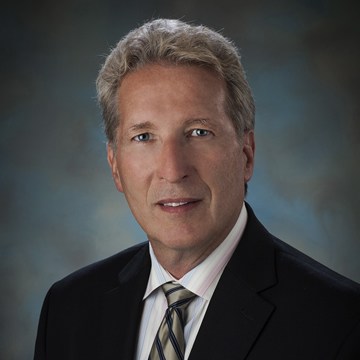 Mark Snyder earned his Bachelor's, Master's and Ph.D. degrees at the University of Illinois in Urbana-Champaign, specializing in Structures and Pavement Engineering.  Dr. Snyder now has more than 35 years of experience in these areas, including 13 years as a professor of Civil Engineering (at Michigan State University and the University of Minnesota), 10 years with the Minnesota and Pennsylvania Chapters of the American Concrete Pavement Association, and his current work as the President of Pavement Engineering and Research Consultants (PERC). Mark is the author of the 2006 ACPA engineering bulletin "Recycling Concrete Pavements" and is the lead author of the U.S. National Concrete Pavement Technology Center's 2018 "RCA Manual of Practice." He is a Past President and Honorary Member of the International Society for Concrete Pavements and is a registered professional engineer in Illinois, Minnesota, Pennsylvania and Hawaii.
The webinar started with introductory words from Luc Rens, EUPAVE Managing Director.
Mr. Rens announced the continued wish for EUPAVE to keep on putting sustainability aspects high on the agenda in 2019. Indeed, a new working group on Environmental Strategy will soon be launched and be opened to the association's members. He reminded that "recycling" is still a hot topic, particularly in the framework of the circular economy.
Different EUPAVE publications linked to sustainability and circular economy have already been released over the years:
You can find all of these publications in our online library.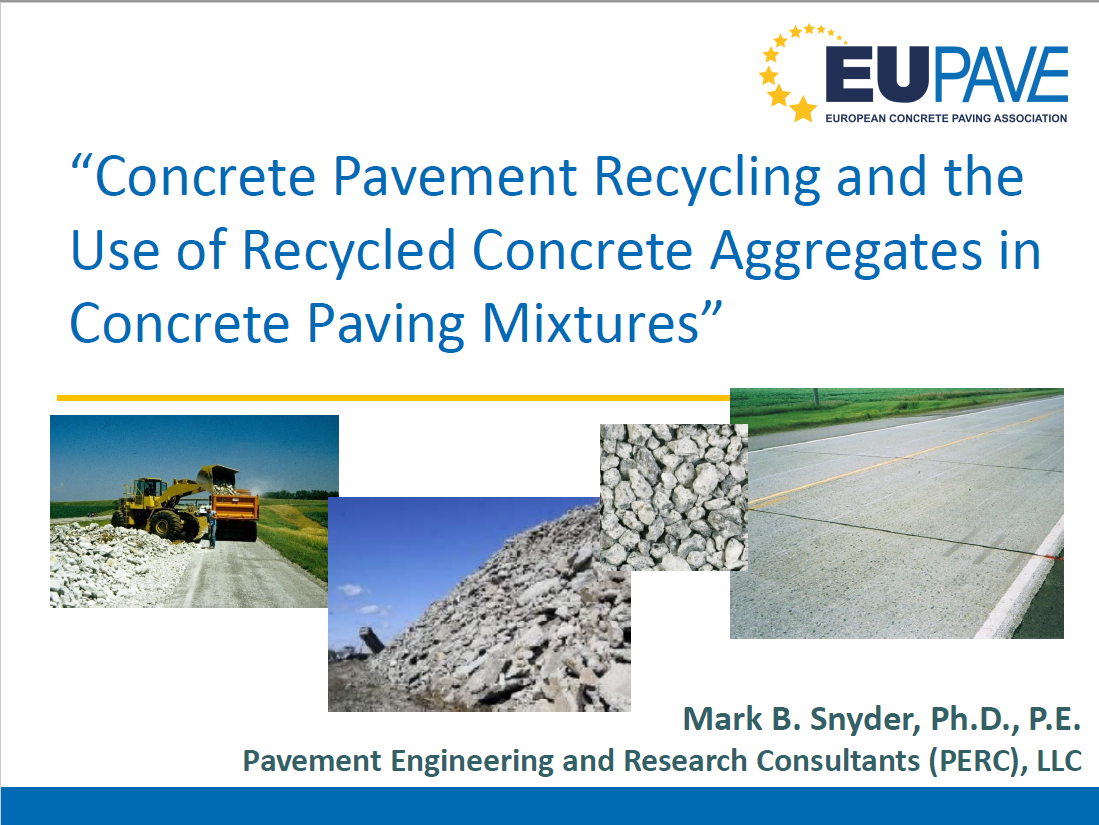 Dr. Mark Snyder then gave his presentation on "concrete paving recycling and the use of recycled concrete aggregates (RCA) in concrete paving mixtures".
He started with an overview of the use of RCA in the U.S.  Concrete recycling can be considered as a proven technology as the use of RCA is allowed in at least 43 of 50 states.  The main reasons for concrete recycling are both cost savings (elimination of excavation, reduced purchase and haul of natural aggregate, avoided haul fuel consumption…)  and environmental benefits (landfill reduction, conservation of resources,…).
From the properties of RCA he moved to the properties of fresh and hardened concrete with RCA and the effects of RCA and mix design on strength, thermal properties and durability.  Subsequently the performances of RCA concrete pavements were presented including several interesting case studies, most of them success stories but also some that failed.  An interesting part of the presentation was about the rehabilitation techniques such as diamond grinding and dowel bar retrofit, to restore the driving comfort of old concrete roads and allowing them to be in use beyond their design service life.
Some examples of RCA in two-lift pavements were shown amongst which the impressive Illinois Tollway project (I90 – 2014).  Dr. Snyder ended with recommendations for mix design and some useful pavement structural design considerations.
The presentations were followed by a Q&A.  EUPAVE wants to express its gratitude to Dr. Snyder for the outstanding presentation and friendly collaboration.