Go back
EUPAVE's participation to the "European Week of Cities and Regions": Sustainable Infrastructure
23/10/2020
EUPAVE was invited to participate in DG GROW's workshop, as part of the European Week of Cities and Regions, on 22 October 2020 (11:30 -13:00). This year, the European Week of Regions and Cities was spread over three consecutive weeks, each dedicated to one timely topic: Empowering Citizens, Cohesion & Cooperation, and Green Europe.

The workshop took place in the week dedicated to Green Europe. It focused on the topic of sustainable infrastructure with a special attention to the public procurement phase and the possibilities of using sustainable criteria in public tenders.
The online event was moderated by Katharina Knapton-Vierlich, Head of Unit (Acting), Unit G.1 Public Procurement Strategy, DG GROW, European Commission.
EUPAVE, represented by Luc Rens, Managing Director, shared the floor with:
Juan Manuel Díez Orejas, Strategic Planning & Innovation, Port Authority of Valencia, Spain.
Veronika Safrankova, Head of UNEP Brussels Office, UN Environment, Belgium.
Suzanne de Vos-Effting, Sustainable Procurement Advisor, Dutch Ministry of Infrastructure and Water Management, Netherlands.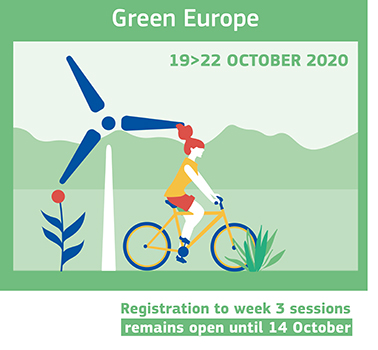 As described on the European Commission webpage, "in the recovery phase and beyond, public investment will be more crucial than ever to boost key industrial ecosystems such as construction, transport and mobility".
Speakers discussed "how sustainability objectives can be embedded in every step of the development and implementation of public infrastructure projects".
Discussions covered topics such as:
How to attract private finance into public projects
The use of the EU taxonomy by the public sector
Preparing projects, with a special focus on the public procurement phase and the possibilities of using sustainable criteria in public tenders
Sustainability during project implementation (construction) and monitoring
EUPAVE's presentation, entitled "Fair and healthy competition through sustainable tendering" included an introduction to the association, an explanation of what we advocate for and the advantages of concrete pavements. Luc Rens also discussed the importance of having a choice between competing solutions and also of the tender evaluation criteria (assessment over the life cycle of the infrastructure) and how to move away from the traditional tendering procedures,e.g. by the method of alternate bidding.
Around 60 participants from diverse groups such as regional authorities, business organisations, other Commission departments, etc. attended the event.
The presentations were followed by a Q&A, where Mr Rens actively engaged in a handful of questions by the participants. His final statement that "sustainability is thinking about our future generations; so it requires thinking on the long term and not just looking at short term benefits" was shared by the other panellists.