Go back
A wide range of solutions in "Pervious Concrete Pavements" presented at EUPAVE's 6th workshop on Best Practices in Concrete Paving
28/10/2021
On Wednesday 20th October 2021, EUPAVE held at Hôtel Le Châtelain in Brussels its 6th workshop on Best Practices in Concrete Paving. The theme for this year was "Pervious Concrete Pavement: an overview of European experiences".
It was organised as a hybrid event, using a professional sound and video-system from the Dutch "Betonhuis" ("Concrete House") and was attended in-person by 15 participants and online by 65.
As a result of climate change, both periods of drought and extreme precipitation occur more frequently. The recent floods in Europe made us face up to the facts and stressed the importance of integrated water management. Solutions include sustainable road surfacing that is permeable to water, that can store the water in the road structure and allow it to infiltrate into the subsurface or to be slowed down and drained to a nearby infiltration facility or sewer system. Concrete offers various possibilities, both with prefabricated elements and cast in situ. With in-situ concrete, there are solutions in draining (porous) concrete and in classic concrete with drainage openings.
This workshop gave an overview of research, practical experiences and innovations in different European countries.
---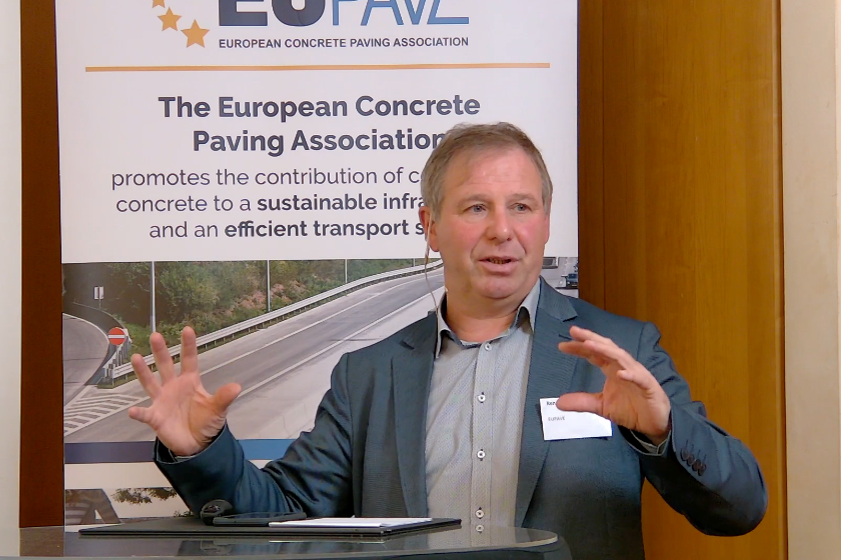 Mr. Luc Rens, Managing-Director of EUPAVE, opened the workshop and welcomed the participants.
He introduced EUPAVE, its mission and gave an overview of the previous workshops on Best Practices. He reminded the concept and gave a quick history of the development of pervious concrete pavement. In order to outline the topicality of the issue, he referred to a recent EUPAVE fact sheet on climate resilience, which cites the problem of increasing flooding and also refers to mitigation measures through permeable pavements.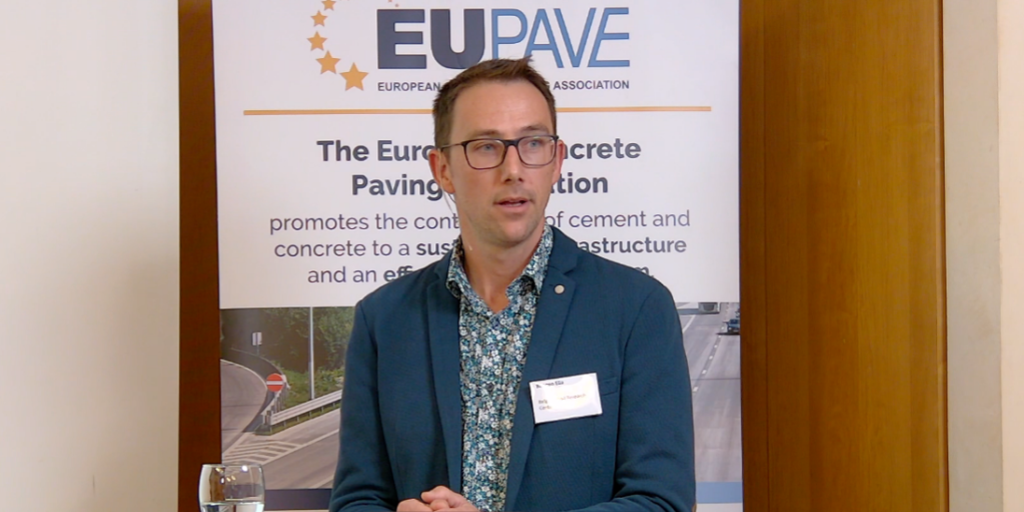 Mr. Elia Boonen, Research and Technical Advisor at the Belgian Road Research Centre, gave a presentation on "Pervious (lean) concrete for sustainable road pavements: first results of the Belgian Be-Drain". The Be-Drain is a project in collaboration with the CRIC-OCCN (Research Centre of the Belgian Cement Industry) with a double normative objective: (complementary) technical guidelines, performance characteristics and test methods for porous concrete, on the one hand, for use as a base material in pavements and, on the other hand, as a pavement itself.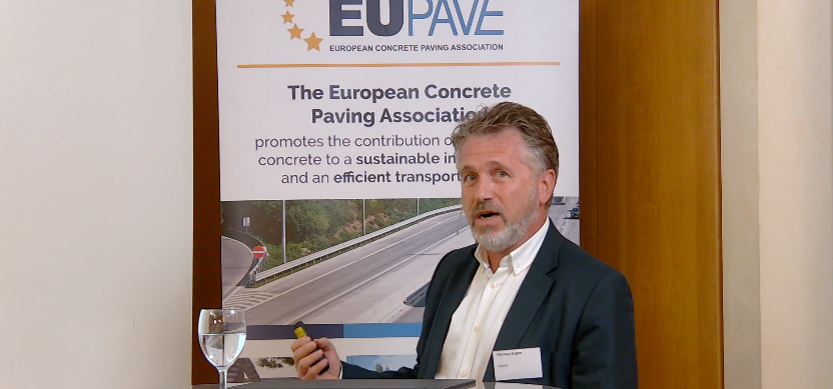 Then, Eugen Florescu, Road Projects Manager at Holcim presented "Pervious concrete, an environmentally friendly materiel for roads: applications on construction sites in France". He showed a number of nice applications of Hydromedia, a special ready-mix concrete with a high degree of permeability, which allows a rapid water drainage.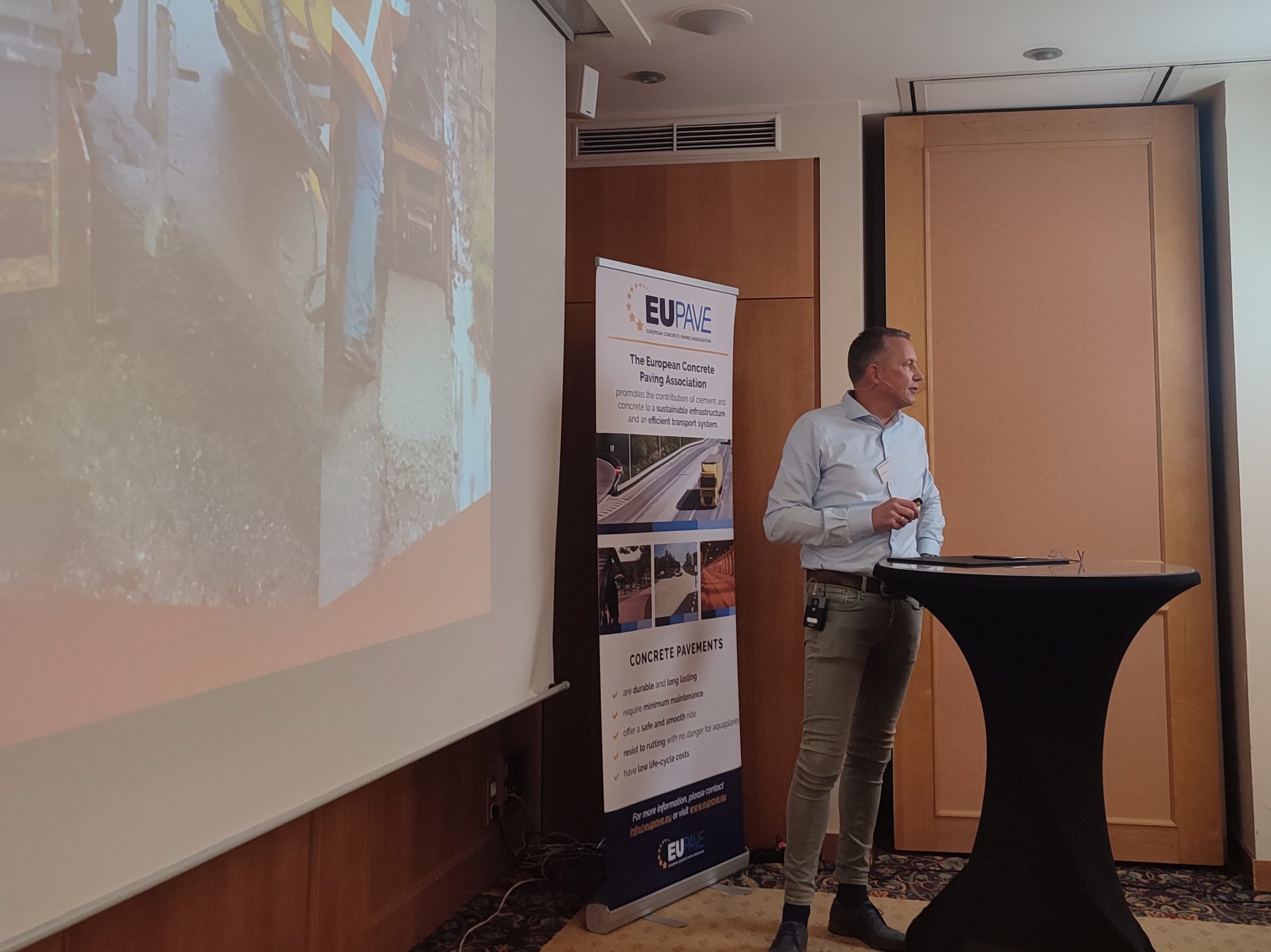 Jeroen de Vrieze, Advisor Promotion and Market Statistics at Betonhuis gave a well-illustrated presentation on the "Special applications of pervious concrete in the Netherlands". He introduced three very particular applications: for widening of roads for safety reasons, for sport fields and for the use as passive fire safety solution in an industrial environment.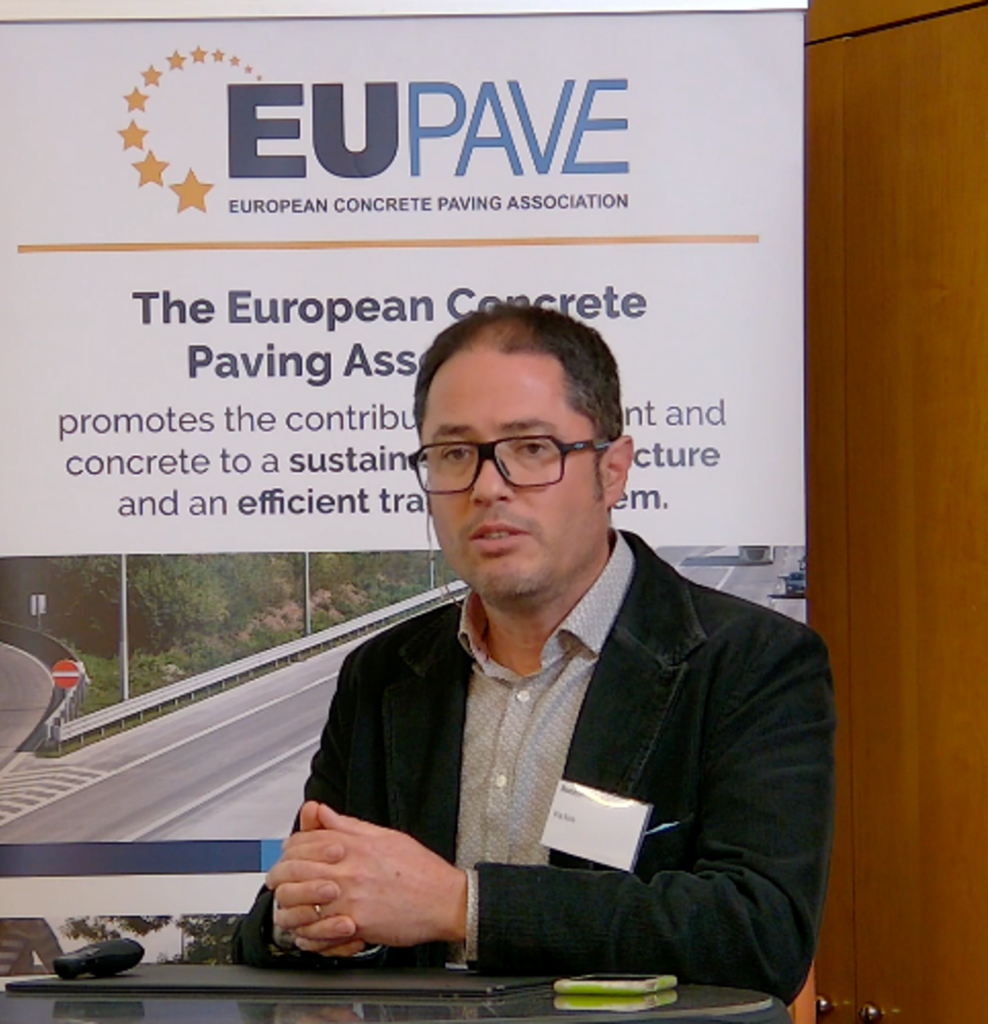 Following the coffee break, Fabrice Bonnin, Technical Manager at Via Sols introduced "A permeable grass concrete pavement: new opportunities with biodegradable formwork". Mr Bonnin introduced Via Sols and their product Via Verde and its more than 100 applications since 2017. Viaverde is an in-situ cast concrete pavement, provided with drainage holes that can be filled with grass or granular material.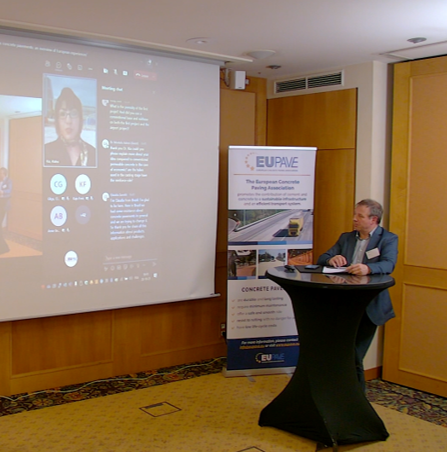 Finally, Alalea Kia, Postdoctoral Researcher in Structures and Materials of the Department of Civil and Environmental Engineering from the Imperial College London presented "Next-generation climate change resilient permeable pavements". She gave an overview of the benefits of permeable pavements, the challenges with the current generation of permeable pavements. She also introduced the product she developed, Kiacrete, a high-strength and clogging-resistant permeable concrete pavement.
The presentations were followed by a Q&A from both the live audience and the on-line participants. For the in-person participants, the afternoon ended with a pleasant networking cocktail.We would like to thank:
All speakers for their efforts in preparing the presentations and the willingness to share their knowledge and experience
All participants, live or online, for showing your interest in EUPAVE and the concrete pavement technology
All our Members & Partners for the support to our association
And a special thanks to our colleague Jeroen de Vrieze and the Dutch Betonhuis for the use of the audio-visual system.
For further information, fill this form to contact us: