Go back
New fact sheet! Concrete roads are made with local raw materials, offer a long service life and are 100% recyclable.
30/08/2022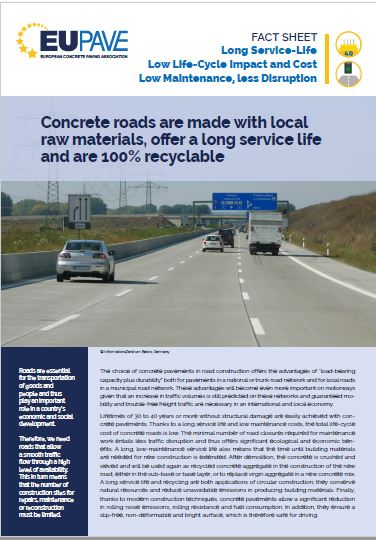 Following the release of our infographic "Concrete Pavements make roads more sustainable", EUPAVE's working group on Environmental Strategy has produced fact sheets focusing on its different items.
The first document looked deeper into the high albedo effect. The second was focused on fuel consumption. The third on "100% recycling" and the fourth on "climate resilience".
The main topics of this fifth fact sheet are the long service life of concrete pavements, their low environmental impact and cost over the life-cycle and the limited maintenance they require, causing minimal disruption.
"Roads are essential for the transportation of goods and people and thus play an important role in a country's economic and social development. Therefore, we need roads that allow a smooth traffic flow through a high elvel of availability. This in turn means that the number of construction site for repairs, maintenance or reconstruction must be limited".